Je vous présente les nouvelles encres d'octobre de chez Ferris Wheel Press:
FerriTales - Twinkling Tea Party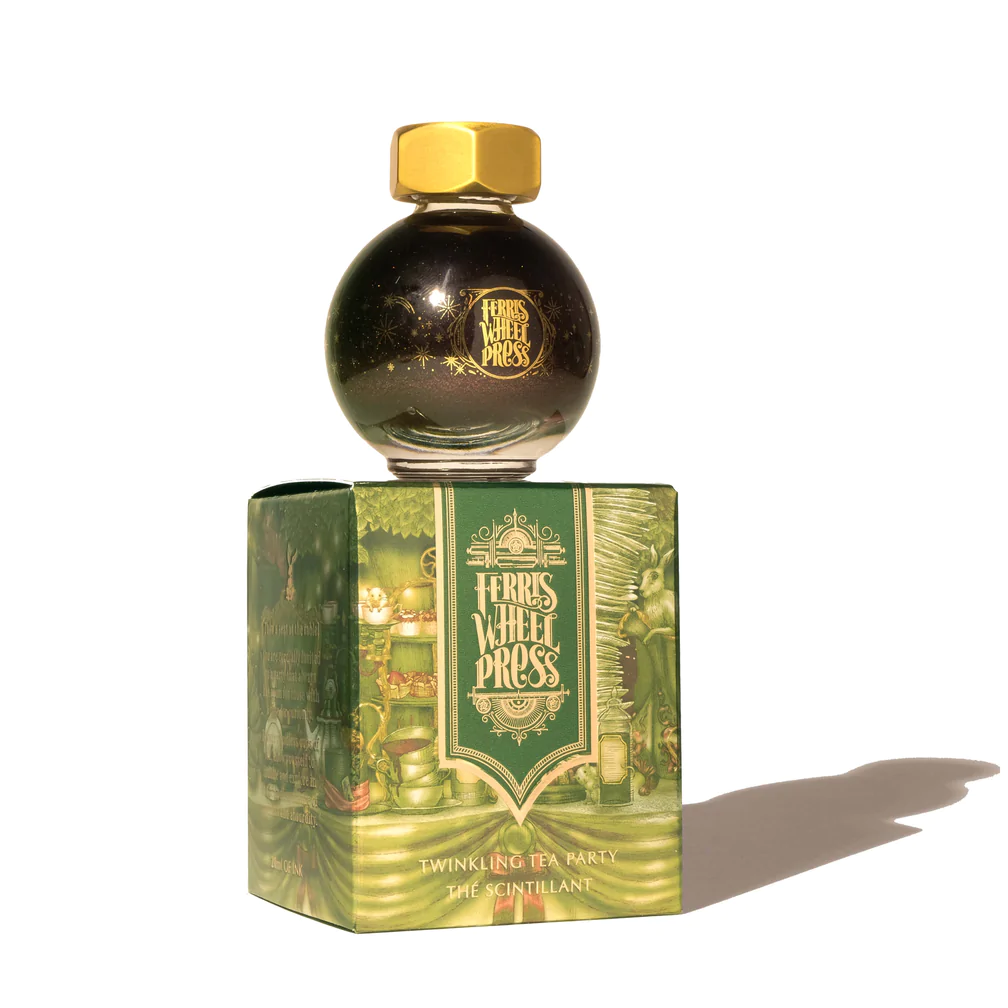 FerriTales - Twinkling Tea Party
Launch date: November 4, 2022
Post/announce only after: October 23, 2022
The newest addition to our FerriTales Ink collection
Ink Tone: Forest Green with rose gold shimmer
Characteristics: Earthy, warm, naturalistic, leafy
The Hatter cordially invites you to take the seat of honour at his table! Hidden in a lush forest of Wonderland, only those that have a nose for curiosity will stumble upon this party. Beneath twinkling fairy lights that glow warm and golden against the lush leaves, indulge in a lavish spread over a table that seems to stretch on and on, and explore the tremendous nature of madness and absurdity.
Notable design details:
Delicate bone china plates teeter towards the twinkling star-filled sky. How many plates can you stack before they come crashing down?

At this table, the tea—not wine—flows endlessly! Take a sip of the rich and deliciously deep red sheening brew.

Dor-mice and friendly forest friends partake in festivities, can you spot them all?

A forest party beneath lush trees isn't complete without sparkling golden fairy lights to set the mood

The Cheshire Cat blinks from the trees—how can he be in so many places at once?
Holidays 2022 - Velvet Ballet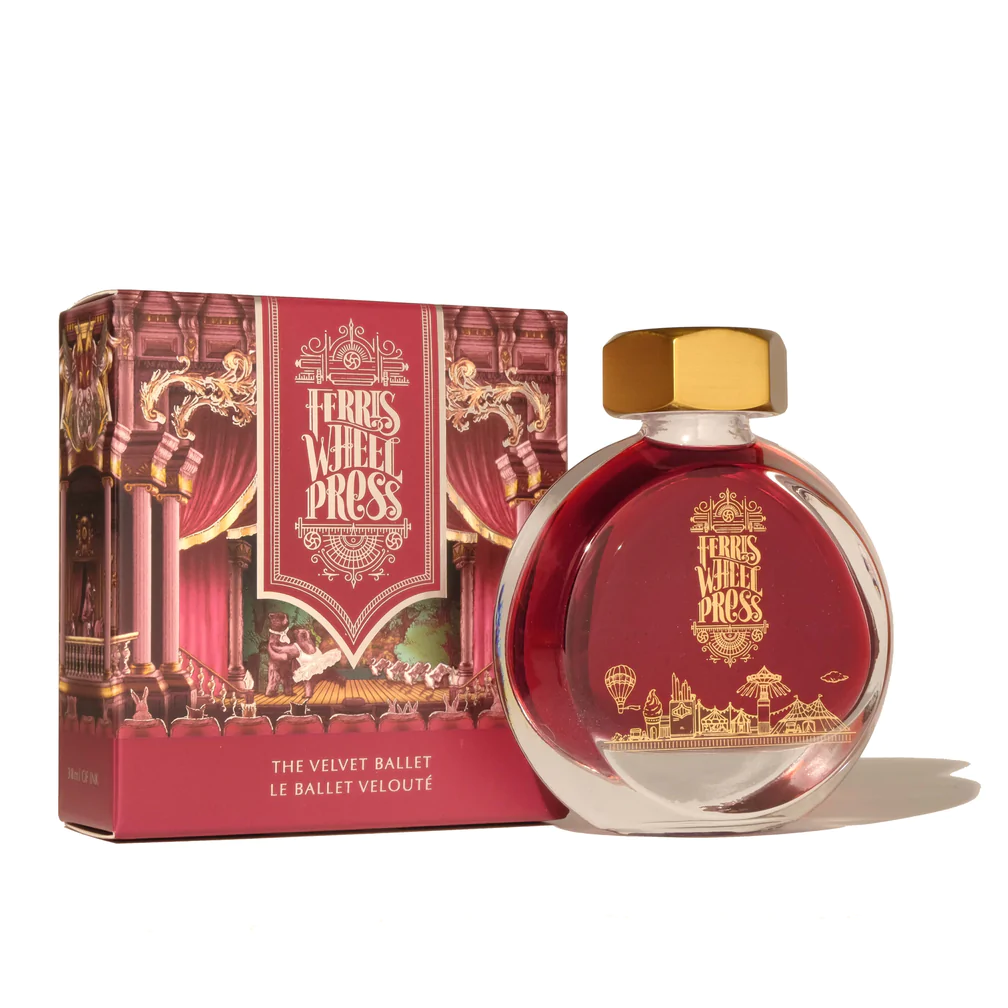 Launch date: November 4, 2022
Post/announce only after: October 23, 2022
The newest addition to our Everyday Ink collection!
Ink Tone: Merlot with mixed metallic sparkle
Characteristics: Warm, velvety, mature, deep
This winter, as days get colder and the nights ever longer, Ferris Wheel Press invites you to indulge with us in one of the joys of the season ⏤ a holiday pageant! Dress in your warmest finery and join us for a beautiful rendition of Swan Lake & a troupe of naturally graceful swans, pirouetting and pliéing across the stage. Prima ballerina, Madam Bear extends her leg in a delicate arabesque and twirls across the stage for the finale of the Nutcracker, in the grasp of her dashing partner. Settle into your velvet seat and get comfortable for the spectacular show.
Notable design details:
Monsieur Beaver, the local lumber magnate lounges in his box seats alongside a foxy companion ⏤ nothing to see here! Across the way, Mr. Wolf enjoys a glass of his favourite Sherry, whilst trying to avoid awkward social interactions with the nouveau riche.
Beautifully hand illustrated stage backdrops, do you recognize any of them?
Graceful tutu clad raccoons glide across the stage in perfect unison
An unruly audience populates the theatre tonight, can you find Pumpkin, Patch, and their patriarch Mr. Black-Smith?
The beautiful hand illustrated venue is inspired by the old theatres of Europe, with a dash of Ferris Wheel Press gilding its features.
Curious Collaborations | Atlas Stationers - Atlas Iron Ore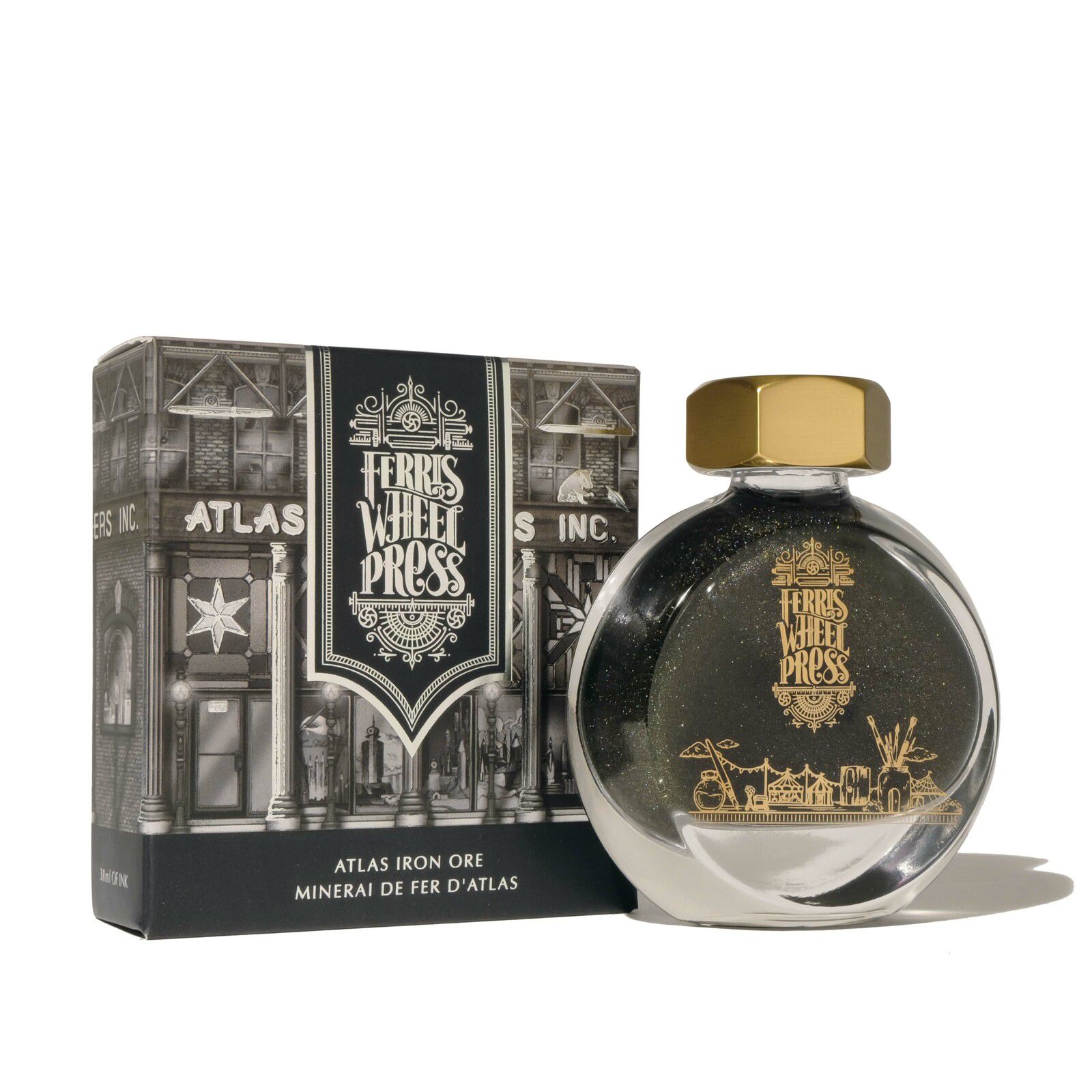 Launch date: November 18, 2022
Post/announce only after: November 6, 2022
The newest addition to our Curious Collaborations collection!
Ink Tone: Iron Black, silver shimmer
Characteristics: Classic, mature, historic
Take a stroll down Lake Street, under the elevated railroad, to the historic storefront of Atlas Stationers. Located in the Lake-Franklin building, one of the few remaining post-Chicago Fire buildings in the city, this multi-generational family business continues to strive to bring their love of stationery to the city of Chicago. Discover the magnificent architectural details, from the cast-iron columns and hand-carved architectural details, delicately illustrated with a Ferris Wheel twist. Take a climb up the vintage fire escape to peek through store room windows, perhaps discovering your favourite new ink, or a unique peer into the past.
Notable design details:
Stained-glass windows depict the 4 stars of the Chicago flag, each representing significant and historic Chicago milestones.
Mrs. O'Leary's Cow kicks over an oil lamp. She was rumoured to have possibly caused the Great Chicago Fire in 1871, but was officially exonerated in 1997.
The Lake Street Elevated Railroad passes in front of 227 W Lake St.; a friendly bear engineer waves hello from the end.
Beautiful iron-work columns which flank the storefront serve as inspiration for the ink colour. The Lake-Franklin building, finished in 1875, is the current home of Atlas Stationers.
Curious Collaborations | Shangri-La Hotels - Land of Shangri-La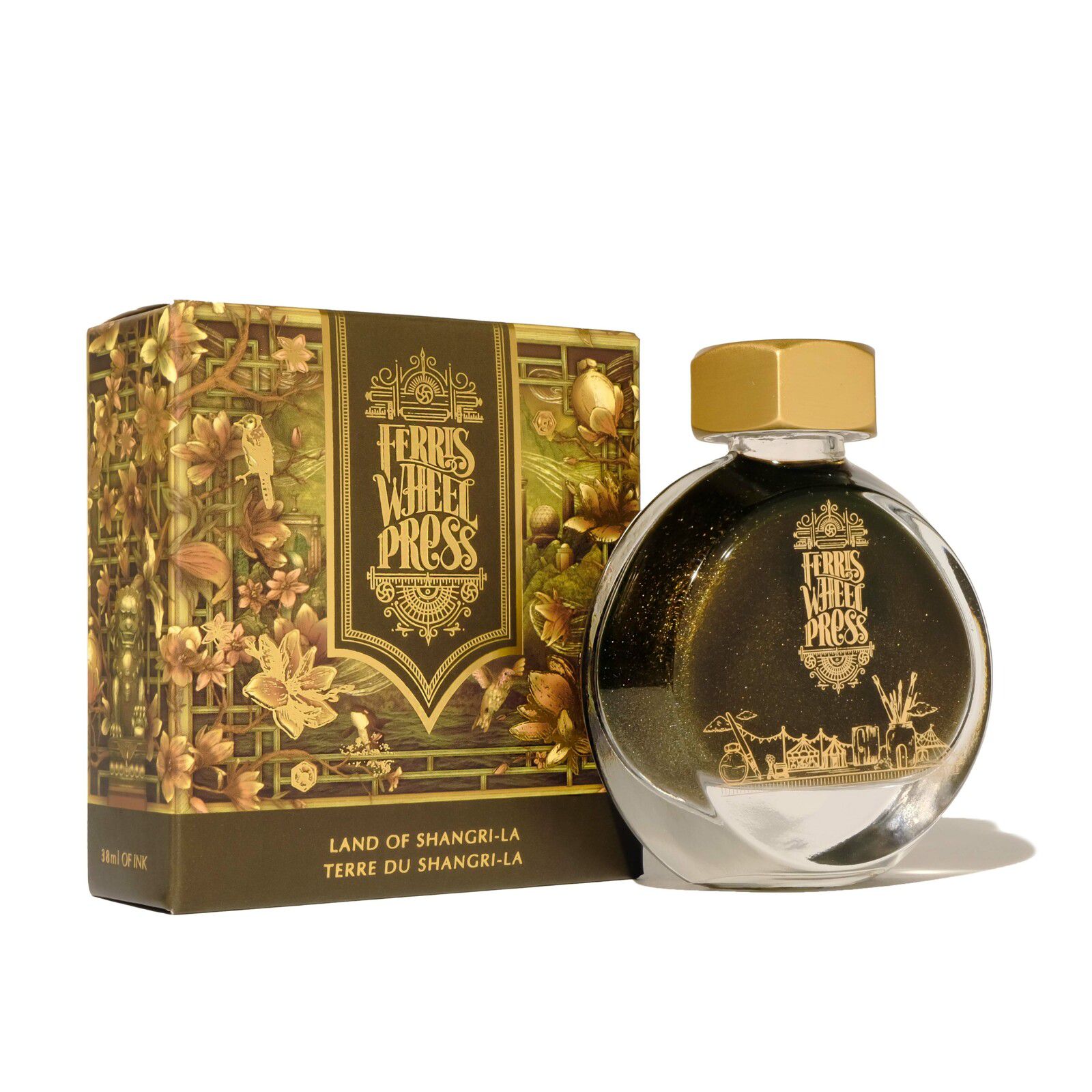 Launch date: November 18, 2022
Post/announce only after: November 13, 2022
The newest addition to our Curious Collaborations collection!
Ink Tone: Ashy Brown, Champagne shimmer
Characteristics: Earthy, natural, grounding
Peer through an intricately carved wooden screen into the dreamy landscape of the fabled Shangri-La, inspired by the 1933 novel, Lost Horizon by James Hilton. Discover snow-capped Rocky Mountains that sit nestled amongst cherry blossoms and magnolias in full bloom. Blue jays and Anna's hummingbirds flutter through the branches, from flower to flower. Magnificent orcas swim through misty clouds, and the cresting waves of the English Bay, with a view of the fabled Shangri-La in the distance.
Notable design details:
Flanked by two Foo dogs inspired by the Food dog statues located at Shangri-La Hotel Vancouver.
Cherry blossoms, Magnolia, Trilliums, and Pacific Dogwood weave through wooden screens inspired by the decor of the Shangri-La hotel. The flowers represent Ontario and British Columbia, with the provincial flowers and two of the most popular flowering trees!
The official city birds of Toronto and Vancouver, Blue Jay and Anna's Hummingbird flutter from branch-to-branch across the box.
Iconic buildings from Vancouver and Toronto create the dreamy landscape of Shangri-La; the CN Tower, Toronto City Hall, Science World, Prince's Gate, Lions Gate Bridge, Harbour Centre and respective Shangri-La Hotels.